Buyer's Guide
We created this guide to explain what all of the features are on our products. With so many possibilities and options, this guide should help you grasp a better idea of what you need for your particular application. We are always available to help if you have any questions, but we hope this helps clear up some of the confusion you may have.
Materials Used
Steel - We use a carbon steel on most of our products. It's the most economical material and can withstand the test of time with a good finish.


Aluminum - A very lightweight yet rigid material. Aluminum is also very resiliant to weather and moisture. It does not require any finish or coating.


Stainless Steel - As strong as steel plus the most anti-corrosive properties available. After a good buffing, the stainless requires no added finishing
Finish Types
Standard Enamel Finish - All of our steel products have a professionally sprayed enamel finish. Our standard colors are Gray and Yellow. For a surcharge we can spray any color specified.


Galvanized Finish - Cleaned unpainted products are sent to galvanizing, where they will be coated several times. The galvanized coat protects the metal much better than paint.
Mill Finish - Our aluminum products have a mill finish. This means the raw material only requires us to clean it before it ships out.
Tread Styles
Our standard products are offered in either Perforated tread or Serrated tread. We also offer Grip Tape and Diamond Plate for other products. We have the capability to use just about any tread for all of our products and custom products.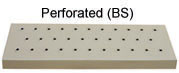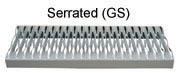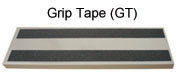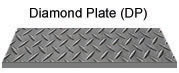 Perforated - This industry standard has upward punched holes that create a non-skid surface. Good in all conditions, but we recommend a Serrated tread for consistently wet or oily conditions


Serrated - The most aggressive non-skid surface available. Serrated teeth keep oil, mud, snow, and water from turning into a hazard. The only complaint is comfort while resting on your knees.


Grip Tape - This adhesive tape has a hard grit surface. Similar to the tops of skateboards, it is recommended for indoor and dry environments. Perfect for offices and users with dress shoes.


Diamond Plate - Diamond plate was the first non-skid surface ever created in the industry. It reduces slipping, however it is not recommended for oily or wet conditions.
Locking Systems
We utilize three different systems to keep our ladders from rolling away when you don't want them to. These systems are the industry standard and meet OSHA & ANSI safety requirements.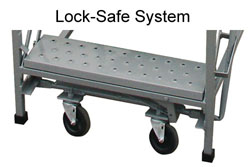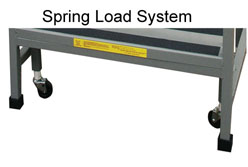 Lock-Safe System - Once the user applies weight (a footing) on the first step, the springs actuate and the casters flip up from the floor. The front pegs are now firmly planted. To unlock the Safe-Lock System, all you have to do is pull back on the side handle bar or step on the front pad.


Spring Loaded Casters - The caster stems have a spring in them. Once weight is applied, the springs compress. The compression allows the pegs to be planted on the floor. The legs can only come back up once the weight is removed (getting off).


Tilt and Roll - Some of our designs are lightweight and can be tilted on their wheels for portability. This design uses two wheels on one end and pegs on the other. It's a simple method, but has worked for nearly a century.
Ladder or Platform Dimensions
Sometimes our customers are confused by what dimensions go where. This simple diagram should explain everything.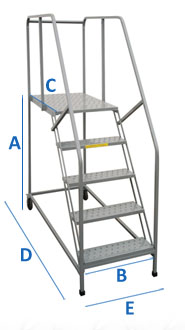 A = Step Height or Platform Height (generally measured 12" per step)


B = Step/Platform Width


C = Platform Depth


D = Overall Depth (found at base)


E = Overall Width (found at base)
Shipping
All of our products ship using the industry standards for ladders and work platforms. After a thorough Quality Check is performed on each product, they are either palletized or crated. Shrink wrapping and padding adds an extra layer of protection.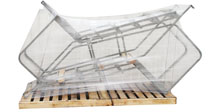 For ladders and stairways over 16 steps high, a Protective Crate is necessary. Crating charges are applied.
All of our products ship with a Yellow Safety & Use and red PW Platforms label with serial number.

Both of these labels are placed on the lip of the step. OSHA compliance is noted.