Rolling Safety Ladder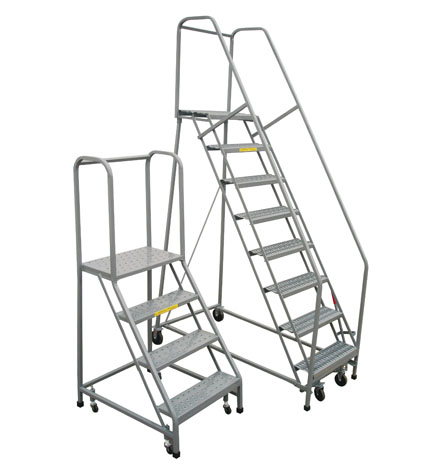 What are all of these features? See our
Buyers Guide
for help.
Our Rolling Safety Ladder provides a mobile solution to access vertical heights. These ladders are made of rugged 1 inch square tube design. They come standard with a weight activated "Lock Step". The handle on the side is designed to release the lock with ease.
Standard Features
57 degree slope is standard
30", 24", or 18" wide steps
5 steps and higher utilize the Lock Step
4 steps and shorter are Spring Loaded
Rubber tips at stabilizing legs
14" deep top platform
300 lbs load rating
1" square tube construction
30" handrails if equipped
Gray industrial enamel finish
Tread Styles Avaialable


Many sizes and styles to choose from. Download the catalog page for this item.